Now. Bare in mind that a few of these will be moved to 2007, some will fall prey to bad buzz and some I will just forget about or not see through no fault of my own. But I managed to scrounge up 68! Plus, there's other movies that will pop up and will be must-sees. Plus, I'm sure I'm just missing some that werent on my radar. Anyway...
I don't expect you to read all of this. I wrote it for somewhere else, much more movie-based and thought I'd just cut and paste it here.
68. Bandidas
er... Salma Heyak and Penelope Cruz do some stuff. Could be high fun, or really really REALLY awful.
67. Che/Geurilla
Steven Soderbergh's first of two appearances on the list (he has three movies out this year). It would be higher but after seeing The Motorcycle Diaries last year, it turns out that Che Guevara really wasn't that interesting as I had assumed. But this has a great director and cast (Benicio Del Toro, Javier Bardem, Franka Potente, etc) and deals the political side of things. Could be great.
66. American Dreamz
Paul Weitz' satire about America. Could very well be hilarious, or could turn out to be an obvious over-reaching movie. But it's a got a big cast including Shohreh Aghdashloo, Jennifer Cooligde, Willem Dafoe, Hugh Grant, Judy Greer, Marcia Gay Harden, Chris Klein, Mandy Moore and Dennis Quaid amongst many others.
65. Goya's Ghost
Milos Foreman makes a movie with a screenplay by himself and Jean-Claure Carriere and starring Natalie Portman, Javier Bardem and Stellan Skarsgaard? Er, i'll be there
64. Silent Hill
Could be fun + Radha Mitchell.
63. All The King's Men
Was shunned out of 2006's Oscar race, which can be a bad sign or a bad sign. The story's a strong one though and the cast is great (Sean Penn, Kate Winslet and Jude Law. Need any more?) so unless they've really screwed it up, it should at least be some pretty decent politics.
62. Miami Vice: The Movie
I'm wary, but at least Michael Mann (who made the last brilliant thriller in the form of Collateral) was involved with the original program. As long as they haven't made Jamie Foxx the main character cause that's just not fun for me if it is.
61. The Lady in the Water
Okay, I am of the belief that M Night Shyamalan is one of the most important film makers of the last 6 years for better or worse. This one sounds interesting (as do all his films - end product varies) however the casting of Bryce Dallas Howard (of which i am in love with) is usurped by the casting of Paul Giamatti (of which i despise) as yet another schlub. GO AWAY, PAUL!!!!! I hate you and I'm all that matters. It is about fairytale nymphs though, so...
60. A Scanner Darkly
Real actors performing and then being animated. Richard Linklater's done it before, and this sci-fi tale sounds much more interesting that the last time he did - "Waking Life"
59. Sunset Blvd.
"Phantom of the Opera" disappointed me somewhat, and I don't expect this one to be particularly great either, but I am interested mostly because it could be a legitimate campaign for Glenn Close to finally win an Oscar.
58. Casino Royale (James Bond)
Will the franchise fly or die with a new man and an apparent "new direction"? I have no idea, but if it's better than "Die Another Day" (which shouldn't be hard) then that's something, right?
57. Untitled David O'Russell Project
Will almost definitely move to 2007, but at the moment it's down for 2006 and it's David O'Russell so colour me interested
56. Poseidon
Whatever. Should look cool on the big screen if nothing else.
55. When A Stranger Calls
Fact: I don't like the original. The only good thing (no, great thing) is the opening scene. So, I'm interested because there is much room for improvement in an admittedly interesting storyline. Wonder where it will go? "Have you checked the children?"
54. The World Trade Centre/September
Oliver Stone making a movie about 9/11. If nothing else it will be one of the discussion points of the year (film-wise if not in widespread media). I still don't know what my feelings about this film are (and it's cousin, further down the list) and I doubt I will know until I see the film. However, one negative already has arisen - Nicolas fuckin' Cage (+ moustache!!)
53. The Departed
By all rights, I should be much more excited about this. Martin Scorsese's film about American organisations and their internal actions, starring first-timer for Scorsese Jack Nicholson, Scorsese's latest go-to man Leo DiCaprio, plus Matt Damon, Ray Winstone, Alec Baldwin, Mark Wahlberg, Vera Farmiga and Martin Sheen... but the thing is... it's a remake. And it's a remake of a film that's barely three years old (Hong Kong's "Infernal Affairs"). But at least this one won't have people screaming "WILL SCORSESE GET HIS OSCAR?!" He won't be getting it for a remake of an action film. Will the rooftop scene - exhilirating in the original - remain intact though?
52. Brick
Since "Mysterious Skin" i've become a Joseph Gordon-Levitt fan and here's another chance for him to indie it up. Throw in Lucas Haas and Emilie de Ravin and a very interesting plot and you've got me highly intrigued.
51. Ant Bully
I dunno. It's got a great voice cast. But one of my biggest pet peeves is animated movies hiring any big stars despite the fact that a lot of people's voices just arent suited to animated films (see most of Dreamworks' animated movies. You can be assured that at least 3 of the main characters' voices just don't work)
50. Idiocracy
Mike Judge + Luke Wilson. If it's half as funny as "Office Space" then I'll be happy
49. Sunshine/Untitled Sunshine Project
Danny Boyle reteams with Cillian Murphy for a sci-fi movie about the Milky Way's dying sun and the mission to save it. Throw in Michelle Yeoh, Chris Evans and Rose Byrne and I'm there.
48. Stranger Than Fiction
I am NOT a Marc Forster fan. "Monster's Ball" was just not good despite some good performances (inc. a GREAT one by Heath Ledger btw) and "Finding Neverland" was excrutiatingly awful (possibly the worst Best Picture oscar nominee ever?) and I didn't even bother with "Stay" - however, this one sounds much more interesting. A man starts to here a narration of his life that only he can hear, which then starts to affect everything in his life. A cast including Will Ferrell (who I don't usually like but seems suited to this), Maggie Gyllenhaal, Queen Latifah, Emma Thompson, Dustin Hoffman and Kristen Chenowith gives me higher hopes than anything else this man has made before.
47. V for Vendetta
Okay, so i LOVE the original Matrix, moderately like the second, outright hate the third. This movie isn't directed by the Brothers W, but they're definitely gonna have their seal over every single aspect. Hugo and Natalie should prove entertaining but as we've seen before, these guys don't work best when their material is so overtly serious. I really wanna see "Bound" though.
46. Friends With Money
For no other reason than to see three great women (Jennifer Aniston, Joan Cusack and Catherine Keener) interact with one another. And hopefully, Joan Cusack is finally getting her groove back after dulling it up in dullsville, USA (ie; every movie she's made in the last 5 years - although, i didn't see School of Rock, but I can't see that changing my opinion of anything of hers post-High Fidelity)
45. Flags of Our Fathers
Clint Eastwood directs. So, if his last few years are any indication, it should be at least interesting. However, i believe this is only the first of two films about the raising of the flag in the battle of Iwo Jima - one from America's view, another from the Japanese. Over-indulgance is never good, Clint.
44. The Texas Chainsaw Massacre: The Beginning
I'll see it, but I doubt it'll be anywhere close to what the 03 version was like. My thoughts of this movie pre-viewing will depend on the trailer. The original remake (god, how annoying is that term getting? Remakes that get their own sequels. The Ring, The Grudge, etc) had the best trailer i've ever seen, so...
43. Snakes on a Plane
lol, who DOESN'T wanna see this movie (and it's illigitimate sequels - "Snakes Are Mundane", "Snakes Open A Restaurant Chain", "Snakes in Brisbane" and "Snakes on Ice")? <-personal joke from the first place I posted this and decided to keep in.
42. The Good Shepherd
Hear that? it's the sound of Robert DeNiro's career hitting the bottom of the barrel (ie; low-grade "horror" where Dakota Fanning gets higher billing) and so now he's going to directing big movies (he has directed before, but nothing major i believe). This one is about the inception of the CIA and stars Matt Damon, Angelina Jolie, Joe Pesci, Alec Baldwin and Bobby DeNiro himself. Could be great history lesson, if that's your thing - which, for me, it is on occasions.
41. Infamous
This has got to be the most unfortunate film of the year. Why should a movie with Toby Jones, Sandra Bullock, Daniel Craig, Gwyneth Paltrow, Sigourney Weaver, Jeff Daniels, Isabella Rossellini, Hope Davis and Peter Bogdanovich be considered unfortunate? Well - the plot. It is about Truman Capote and the relationship he formed with one of the killers that was the basis of his book "In Cold Blood". It's a shame too, cause LOOK AT THAT CAST. So happy to see my Sigourney getting work that will be seen (and not in "The Village"). And Isabella Rossellini!! Plus, Sandra Bullock's ascention as a great actress is hopefully continuing here.
40. X-Men 3
Here by pure virtue of it's being. However the inclusion of Brett Ratner and Ben Foster makes me shake in fear.
39. Running With Scissors
Sure to be an Oscar-bound movie, this has Annette Bening in a prime role (always a good thing) alongside Gwyneth Paltrow, Brian Cox, Vanessa Redgrave, Alec Baldwin, Evan Rachel Wood and Joseph Fiennes.
38. Scoop
Woody Allen + Scar.Jo (again) + Hugh Jackman (for the first time) = excellent. Still waiting for "Match Point" though.
37. Flight 93
The second film about 9/11 in 2006 is by Peter Greengrass is a real-time re-enactment of flight 93 on 9/11. Thankfully there are no "name" castmembers. But, still... i won't know how I truly feel about this until I see it.
36. Across the Universe
Julie Taymor makes a musical set to the songs of the Beatles starring Evan Rachel Wood? Well, this could be one of the delights of the year. If it's as visually exciting as Taymor's "Titus" and "Frida" then that's just a bonus.
35. Superman Returns
Confession - I have never seen one single Superman movie. And I don't intend to before seeing this movie. I don't want to compare. So, the only thing I will have to compare it to is, er, Lois & Clark. I don't really see the Superman story as all that interesting, but I hope Bryan Singer can make me interested. Here's a thought. Are the Superman and Batman franchises just going to continue to alternate each other's names?!
34. Art School Confidential
The director of "Ghost World" goes to college. I can't wait.
33. The Hills Have Eyes
I wasn't to jazzed on this until I heard that they got an NC17 rating and found it hard to get it down because the rating wasn't due to gore as much as it was to the overwhelming sense of tension that is throughout the movie. Now i'm pumped. I like the original Wes Craven version so we'll see how it pans out.
32. The DaVinci Code
I haven't read the book (just another in a long line of literary adaptations that I have not read the books for). But it does have Audrey Tautou, which makes up for Ron Howard! I'm actually excited about this movie though, which I didn't expect I would be - and it's still 5 months away.
31. The Devil Wear's Prada
The devil of the title? Meryl Streep, no less. Add Ann Hathaway who is improving as an actress, Adrian Grenier, Simon Baker and Emily Blunt (who impressed me in My Summer of Love, even if the film didn't) make this very interesting.
30. The Children of Men
I have no freakin idea about this movie, but what I do know is that it stars Clive Owen, Julianne Moore, Michael Caine, Peter Mullan, Danny Huston and my favourite new-actor Chiwitel Ejiofor and is set in 2027 and is directed by Alfonso Cuaron who I almost single-handedly thank for making Harry Potter 3 a great movie.
29. The Good German
Steven Soderbergh does a murder mystery in the 1940/50s starring Cate Blanchett and George Clooney. Is gonna be a big Oscar contender methinks, and it sounds excellent.
28. A Good Year
"The Good Shepherd", "The Good German" and "A Good Year" all up for Best Picture in 2007. It is quite possible. This one is by Ridley Scott (legend) and stars Russell Crowe and sounds like it could be very boring - but i suspect it will be wonderful.
27. Grind House
Quentin Tarantino + Robert Rodriguez make two horror films and splice them onto one print? Odd project - but sure to be exhilerating. Hopefully if Rodriguez can keep his visuals good but the story better then his will be good. And it's Tarantino - why should I expect it to be bad?
26. The Messengers
I wasn't a fan of the one Pang Brothers movie I saw (the title escapes me, but it was bad), but this one sounds so freakin creepy! It's original title was "Scarecrow" if that's saying anything.
25. Happy Feet
Who doesn't love penguins? This Australian animated movie is sure to be delightful. From the writer of Babe! ...and Mad Max...
24. Zodiac
David Fincher returns to the serial killer sub-genre. I was a much bigger fan of "Panic Room" than most, and am nowhere near a fan of "Fight Club" but consider "Se7en" a masterpiece. Where will this one sit? Who knows, but I hope it's bloody good.
23. I'm Not There: Suppositions on a Film Concerning Bob Dylan
Todd Haynes is a brilliant film-maker and the only thing I can think of when thinking about this film is that emoticon of the little yellow face with the eyes bulging out. :eek This is just bizarre - but I am sure Haynes will work through it with aplomb. And with a cast featuring some of my very favourites - Christian Bale, Cate Blanchett and Julianne Moore plus Colin Farrell and Richard Gere I can't wait.
22. The Assassination of Jesse James by the Coward Robert Ford
KEEP THE NAME! I hope they don't change it to something boring like "Jesse James" or even just "The Assassination of..." This sounds like it's gonna be great. Brad Pitt really good in the role too, add a whole bunch of great supporting actors and Andrew Dominik, the director of "Chopper" and I'm looking forward to this one a lot.
21. Candy
Heath Ledger can act really good now. Add Abbie Cornish, Geoffrey Rush and Noni Hazlehurst and, well, this is the most interesting sounding Australian film of the year.
20. The Visiting
Nicole Kidman does sci-fi thriller. Could implode; Could rock!
19. Youth Without Youth
Bound to be one of the biggest year-end awards contenders, this is Frances Ford Coppola's big return (hopefully). Could we have the very first ever Oscar race for Best Director with two members of the same family competing against one another - god, I hope so! Or... i'm pretty sure it'd be the first.
18. Ask the Dust
Was meant to be released this year, but that doesn't bother me. I absolutely adore depression era in film with prohibition and all that jazz. This one has the added bonus of Colin Farrell and Salma Heyak and was adapted and directed by Robert Towne - returning to his Chinatown days hopefully with blistering success.
17. Babel
Okay, how many times have I written Cate Blanchett in this post? Well, she's here again, and this time alongside Gael Garcia Bernal and Brad Pitt in Alajandro Gonzales Inarritu's new film. I've liked all of Inarritu's films (btw, speaking of films about 9/11, his inclusion in the film "11'09"01" was the best one) and the intercrossing storyline tale will hopefully impress.
16. Pirates of the Caribbean: Dead Man's Chest
More of the same? Yes please.
15. Cars
Pixar, nuff said
14. Bobby
Emilio Estevez tries to make good movie shock! Anthony Hopkins, Lindsay Lohan, Demi Moore, Sharon Stone, Elijah Wood, Laurence Fishburne, Mos Def, Heather Graham, William H. Macy, Mandy Moore, Joshua Jackson, Helen Hunt, Shia LeBeouf, Ashton Kutcher, Spencer Garratt, Freddy Rodriguez, Martin Sheen, Christian Slater and Emilio Estevez himself star in the movie about the day that Robert Kennedy was assassinated. Sounds so immensely interesting that I can't wait for it.
13. The Black Dahlia
Scarlett Johansson in a noir nystery by Brian DePalma. Plus, it's set in that time-period that I just adore - the 1940s. Colour me excited!
12. The Fountain
I've been waiting 6 years for Darren Aronofsky's next movie after "Requiem For A Dream". After nearly getting it several years ago, we are finally set to lay eyes on his vision. Now with Hugh Jackman instead of Brad Pitt (aww? no, not at all).
11. Dreamgirls
The big musical of 2006. Jennifer Hudson was a bizarre cast addition but from what I've heard about the play, she is the perfect fit. And I'm sure she can knock "And I'm Telling You" (the plays big number) outta the part. Add Beyonce, Eddie Murphy, Jamie Foxx and Danny Glover... i'm excited.
10. Southland Tales
No, its not the incredibly large cast that has gotten me excited, or the fact that IMDb credits it as a Comedy/Musical/Sci-Fi/Thriller... it is that it is written and directed by none other than Richard Kelly of "Donnie Darko" fame - finally moving on from that picture to new areas. YAY. Oh, and Bai Ling? HAH, excellent.
9. The Prestige
Hugh Jackman + Christian Bale + Scarlett Johansson + David Bowie + Michael Caine + Christopher Nolan + murderous magicians = WTF I'm Excited!
8. A Prairie Home Companion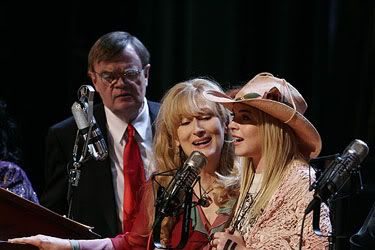 Robert Altman doing a big ensemble movie isn't knew - but this one has Meryl Streep, Lindsay Lohan, Lily Tomlin (who isn't in enough movies lately), Woody Harrelson, Kevin Kline, Virginia Madsen, John C. Reilly and Robin Williams. How can you refuse? Could we be seeing "Academy Award Nominee Lindsay Lohan" on movie posters by next year?
7. The Notorious Bettie Page
"American Psycho" is one of my all-time favourite films and it has been too long between drinks if you ask me for director Mary Herron. This one stars Gretchen Mol as Bettie Page - a war-time pinup model. I'm sure Herron and co-writer Guinevere Turner will make it brilliant. Plus, Lili Taylor, David Strathairn and Cara Seymour in the cast is good news.
6. Factory Girl
Image not of "Factory Girl" - none available.
The movie Katie Holmes dumped because Tom Cruise thought it best that she not act anymore in movies of questionable themes and instead should stay home and take care of business there. It now has Sienna Miller (a better choice methinks) as Edie Sedgwick plus Guy Pearce as Andy Warhol is a masterstroke (my fave Andy performance has been David Bowie in "Basquait") and with Hayden Christensen (who CAN act when not in Star Wars land) and Peter Bogdanovich in there it's sure to be great. I absolutely love this time-period and the world of Andy Warhol so I'll be there as soon as I can. Jimmy Fallon though?
5. Volver
Fact - I think Pedro Almodovar is the greatest director currently working regularlarly. In 5 years he churned out "All About My Mother", "Talk To Her" and "Bad Education" not to mention "Live Flesh", "The Flower of my Secret", "Women on the Verge of a Nervous Breakdown" before that and others I have not seen. Yes, there are others that routinely produce great movies but Pedro is in front for me. And some great directors make one movie, it would seem, every 5 years or so. That makes "Volver" all the more exciting. Plus, i love Penelope Cruz in Spanish-language movies. God, i need this movie now.
4. For Your Consideration
er, not from the movie - but whatever. these guys rock
Christopher Guest is a legend, right? Well, now he's taking of Oscar campaigning tactics (as we all know the constant barrage of "For Your Consideration" ads is getting outta control) is sure to be hilarious. And with (as we've heard, anyway) Parker Posey, Catherine O'Hara and Harry Shearer getting the most face time - it's gonna be a long 8-12 months until this comes out.
3. Manderlay
Lars Von Trier's last movie, the masterpiece "Dogville", hit me with such a brute force that I can't help but be disappointed by "Manderlay" - the second part of his infamous U.S.A. - Land of Opportunity trilogy. This one replaces Nicole Kidman with Bryce Dallas Howard and James Caan with Willem Dafoe and throws in some left-over castmembers from "Dogville" (Lauren Bacall, Jeremy Davies, Chloe Sevigny, Jean-Marc Barr and Udo Kier) and adds Danny Glover in the story about slavery... I fully expect this movie to be equally indictable against not only the USA but the world as a whole - much like "Dogville".
2. Marie-Antoinette
Sofia Coppola made one of my all-time faves in "Lost In Translation" and now she's taking her original blonde-haired leading lady (Kirsten Dunst) back further into time than their last meeting (the dream-like "Virgin Suicides") to the time of Marie-Antionette. Sure to be pure decadance to look at, this could very well prove the way for Coppola to become the very first female Best Director winner. Of course, we won't know that til we see it but until then I am just salivating over this movie.
1. INLAND EMPIRE
There's no images yet, so lets drool over the last time Lynch and Laura Dern combined...
As if there were any doubt? My fave director of all time (er, David Lynch) brings us his latest opus and it's about time ("Mulholland Drive" was 2001). I was getting restless. Of course, I will still have to wait many months to set my sights on it, but til then I can at least knowledge myself with the fact that his new movie involves some form of mystery and stars Laura Dern (Welcome back to the land of Lynch Ms. Dern), Justin Theroux, Harry Dean Stanton , Jeremy Irons and what is surely going to be a never-ending joke for Australians, Cameron Daddo!!!!! Lynch apparently (according to IMDbs trivia page) didn't even write a script for the film until days of filming and he filmed it on DV - intriguing for him. I just cannot wait for this movie. I need it NOW. I wanna know if it's up there with his legendary masterpieces or one of his mere great movies (i doubt it's dirge like "Dune"). I just... aagh, Cannes in May will be our first word about it, and til then...
Looking over this list made be realise next year's Best Actress lineup is a great chance for certain ladies to win statues after a long wait!
Glenn Close
Annette Bening
Laura Dern
Julianne Moore (supporting for Todd Haynes' movie)
Meryl Streep could win a fourth even
Okay, I finished this list a few hours ago but am only just posting it here. However, in the last five minutes I remembered a movie that I forgot about and one that totally deserves to be in the top 20. "Romance & Cigarettes" - Tim Blake Nelson's Brooklyn Musical starring James Gandolfini, Kate Winslet (another perenial fave that could finally see a gold statue by 2007), Susan Sarandon and Steve Buscemi.
I love that David Lynch, Pedro Almodovar, Sofia Coppola, Mary Harron, Lars Von Trier, Richard Kelly, Quentin Tarantino, Francis Ford Coppola, Martin Scorsese, Christopher Guest, Robert Altman, Christopher Nolan, Darron Aronofski, Todd Haynes, Steven Soderbergh (times 3), Terry Zwigoff, Julie Taymor, Bryan Singer, Alejandro Innuratu, Clint Eastwood, Milos Foreman and Michael Mann all have new movies out this year. I have a feeling it's gonna be a fuckin' awesome year. Unlike 2005, which was moderately great, but for the most part was just ordinary.