Music is my Boyfriend
made a hilarious observation the other day.
First. There is
THIS
The Canadian DVD cover for "Transamerica" that portrays star Felicity Huffman (a usually attractive woman) as a man becoming a woman.
And then... there is
THIS
OH. MY. GOD. Apparently for Americans "Transamerica" stars Felicity Huffman as Lynette Scavo from Wysteria Lane!
If y'all can't be buggared to click the links then here is an image sample. How fuckin' nuts is that? Are they KIDDING with that shit? Dear god.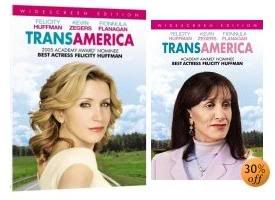 That's ridiculous. Absolutely astonishingly ridiculous. On the American cover, she's even wearing an outfit from a Desperate Housewives photoshoot I think!