Ya know, if it weren't for the abyssmal looking "BIG" movies being released this weekend (aka, the movies that all the cinemas will be getting) this frame would be quite appealing. This week we have new Petersen and Sonnenfeld (for better or worse) as well as new Zhang Yimou, a new Aussie film and some interesting-sounded arthouse fare.
It's neck and neck - which is worse?
Poseidon
,
dir. Petersen
I'm sort of glad I have never seen Wolfgang Peterson's
Das Boot
as if I had I would feel even sadder about this sad sorry state of affairs. So, as it is, Petersen is just a
really
bad director what with
A Perfect Storm
and
Troy
unfortunately on my have-seen list (although to be honest,
Storm
wasn't that bad). And now with
Poseidon
? Well... I feel sorry for the cast.
RV
,
dir. Sonnenfeld
Yet another director who has gone off the deepend after showing so juch potential (in the
Addams Family
films,
Men In Black
(Not
MiB2
!) and
Get Shorty
). I don't even want to discuss this movie except that in Australia on all the promotional stuff (tv commercials, posters, etc) the film is being called
R.V.: Runaway Vacation
... really! Do they think Australians are so stupid as to not know what an RV is? God, and it just links this movie to the National Lampoon
Vacation
movies even more. I HATE THE FACT THAT THIS MOVIE EXISTS. It stars Robin Williams and Cheryl Hines. How sad. It also stars "JoJo" lol. I hate her.
The Chumscrubber
,
dir. Posin
I don't really know much about this movie, but it was an excuse to post a picture of my boyfriend, Jamie Bell. This movie has a great cast (other than Jamie of course) including Glenn Close, Ralph Fiennes, Rory Culkin, Rita Wilson, Carrie-Ann Moss, John Heard, Lauren Holly and William Fitchner. Despite the ever-luring presense of Bell I think I'll skip this and wait for DVD.
The Ax
,
dir. Costa-Gavras
This
Costa-Gavras
man (that's all his name is - Costa-Gavras) had a brief sojourn in Hollywood with the all-over-the-place
Mad City
. With
The Ax
he returns to France with a very dark comedy. The plot? A man loses his job and must, quite literally, elimate the competition to guarantee he gets another job. He goes around murdering all the other applicants! Sounds wickedly fun, but again... a DVD movie for me I think. It sounds like a French
Fun With Dick and Jane
with a much darker violent streak. Was nominated for Best Actor and Best Writing at France's Cesar Awards.
Riding Alone for a Thousand Miles
,
dir. Yimou
Zhang Yimou has a new movie! I don't think people knew that. I surely didn't until I saw the poster recently at the cinema. In fact, upon a little double-clicking I just realised it's US release isn't for a few more months so that would explain it.
Riding Alone
is apparently a return to Yimou's
Raise the Red Lantern
type of film and is most definitely NOT another
House of Flying Daggers
or
Hero
. The film's mid-September release date makes much more sense if they're wanting an awards campaign for this film. I might try and see this if I can. It's only screening at one cinema in Melbourne so it'll probably be there for at least a month or so.
The Caterpillar Wish
,
dir. SciberrasThe Caterpillar Wish
is a new Australian film from newcomer Sandra Sciberras. It's been getting quite a bit of press for an unknown Australian film, and it's getting some really good reviews. It stars the gorgeous Victoria Thaine as a 17-year-old girl in a small seaside town dealing with life, belonging and loss. Yes, it sounds cliched (especially in Australia) but apparently this one has some tricks up it's sleeves. To quote Leigh Paatsch:
"One of the stranger new trends in Australian cinema is what I like to call the Abbie Cornish genre: films where achingly beautiful young women oh-so-poetically crash and burn, and we all feel a little better for having danced on their ashes.
Early on, the new Australian drama
The Caterpillar Wish
shapes as more of the same.
The claustrophobic rural setting, a pretty teenage heroine who doesn't smile much and frame after frame of perpetually overcast skies are enough to have you slumping back in your seat in trepidation of the self-destructing slog to follow.
What a relief, then, that
The Caterpillar Wish
detours from this proven path to doom and gloom and goes looking for something else to fulfil, frustrate and flesh out its interesting main character."
Sound very interesting and it has a great cast. Apart from the previously mentioned Thaine, we have Susie Porter (always guaranteed to provide a good perf, here she plays a topless waitress!), Nicholas Bell, Robert Mammone and, in a surprising return to films, Wendy Hughes. In a strange coincidence as I was typing this
Caterpillar
stuff I opened MSN today and up came
an article
about the film! I'm definitely gonna try and catch this one I think. It sounds very interesting.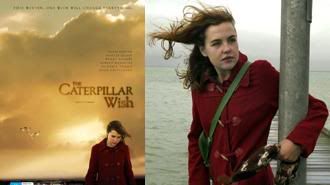 BOX-OFFICE
1. X-Men: The Last Stand (1)
2. The Da Vinci Code (2)
3. Take the Lead (1)
4. Mission Impossible 3 (4)
5. The Benchwarmers (3)
6. Candy (1)
7. Seperate Lies (1)
8. Ice Age 2: The Meldown (8)
9. The World's Fastest Indian (8)
10. Fanaa (1)
What an interesting week on our charts.
X-Men
typcially opens to #1 but with smaller numbers than last week's
Da Vinci
debut. Still, impressive nonetheless. However, the most interesting stuff is the rest of the chart from #3 down.
Take the Lead
and near-unadvertised flick debuts at #3 with an astonishing $1.4mil. That may not sound a lot but it's only on 128 screens, which puts it's per screen average at a whopping $10,982! To compare, it had the third best average of the Top 10 after
X-Men
's $16,396 and
Fanaa
's $13,890. This debut can be put squarely on the shoulders of "Dancing With the Stars", which is absolutely huge in Australia. How else could this movie get such a great opening?
Mission Impossible 3
barely scrapes past the $10mil point this week as
Ice Age 2
nears $25mil after 8 weeks. Sitting at numbers 6 and 7 respectively are the Aussie
Candy
and British
Seperate Lies
. Both did extremely well to make such high spots considering they're playing on 38 and 36 screens respectively. The Heath Ledger starrer made $267,000 and
Lies
took in $159,000. Just under that is
The World's Fastest Indian
as it continues to aim for $6mil+ total, it currently sits at $5,983,579 to be precise and will get there by the weekend.
However, the most intriguing debut is the one at #10. The Bollywood entry
Fanaa
takes the cake as it debuts on 9 screens and a day late (instead of the traditional Thursday), and it took in $125,000 for that previously mentioned $13,890 average. And right below that at #11 is
Warren Miller's Higher Ground
which produced the 8th highest per screen average in Australian history - $53,739. Of course, the Top 10 Averages of All Time features about 6 Warren Miller documentaries, so...
Other new entries in the Top 20 are
The Three Burials of Melquiades Estrada
at #11 and
Last Holiday
at #13.
Estrada
did an okay average of $3324 on 36 screens, but
Holiday
could only get an average of $1760 on 60. Eep.
Hidden
continued it's stellar run falling to #14 after brief Top 10 exposure.
That's your weekly Australian film exposure right there. Bye y'all.