First there was his hilarious drama teacher in
"Big Bite"
(in an otherwise lame show) then he went solo and created
We Can Be Heroes
which was genius television. I've discussed it before, Chris Lilly played five characters who were all vying for the Australian of the Year title. There were two CLASSIC characters.
First there was Ricky Wong a Physics student who is also a member of Chinese theatre group who have put on such musicals as, er,
The Boy From Oz
and has just cast Ricky as the lead in their new musical about Aboriginal Dreamtime which if you think about it is hilarious. A white man playing an Asian man playing an Aboriginal man. Gold.
But then there was Ja'mie (pronounce Ja-may) King. She is a spoiled private school princess who sponsors 80 starving African kids in a Sudanese village because, ya know, doing the 40 Hour Famine once a week helps keep her thin and "totally hot".
I call this one is Smiley because he's got the whitest teeth. This one I call Brown Eyes because of... the brown eyes. This one I call Usher because he's totally hot like Usher.
The scene that I (sort of) quoted above is classic, where she introduces us to her sponsor kids. There's also the 40-year-old that they're passing off as a child so she just covers him up with a scarf. And then she has a board where she marks down every time she receives mail from them and if they don't send her anything in three months she cancels their donations. LOL!!!
Ja'mie is seriously one of the top 5 Aussie tv characters of all time. It's even been voted by people as being so! It's all so hilariously Australian that everyone else would probably be all "!!!!WTF????" and I'd have to reassure them that it is indeed super hilarious. Funnier than anything Adam Sandler, Rob Schneider, David Spade, Jon Heder and all of them have done combined. Not that's particularly hard. But I just saw a tv commercial for
Benchwarmers
and it looks revolting beyond words.
Anyway, so it turns out that for the first time in forever (45 years to be precise) an Australian won a prize at the Rose d'Or awards in Switzerland, which are these prestigious international television awards.
Lilly won for Best Male Comedy Performance
so way to go!
We Can Be Heroes
is a classic. Can't wait for his next project, a series based around the drama teacher I mentioned up there.
Another Aussie won too. Kathy Dreyton and Helen Bowden won the Arts and Specials award for their documentary
Girl in a Mirror
(which strangely doesn't even have an IMDb page). So way to go. First time any Australian has ever won at the awards which I admitted had never heard of before.
Anyway, before I leave maybe you can ogle Ja'mie some more cause she's, like, totally omg hot!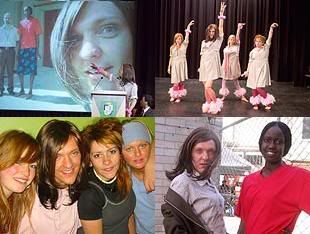 I think everyone's just jealous of her cause she's so hot. But Ja'mie has compassion. She knows it's not their fault they weren't born as hot as she. But it's not like she ASKED to be super hot, she just
is
. Ya know!